Whether you are an avid horse lover, or architectural feen or just an admirer of beautiful things, horse stables, in our opinion have always been a place of beauty and where we gain some of our greatest inspiration for our personal home decor and overall lifestyle. From modern stables, to the 17th century, our list of the 7 Most Beautiful Horse Barns in the World is sure to leave you in awe and ready to travel. Scroll below to see which barns made the list!
Royal Stables at the Palace of Versailles, France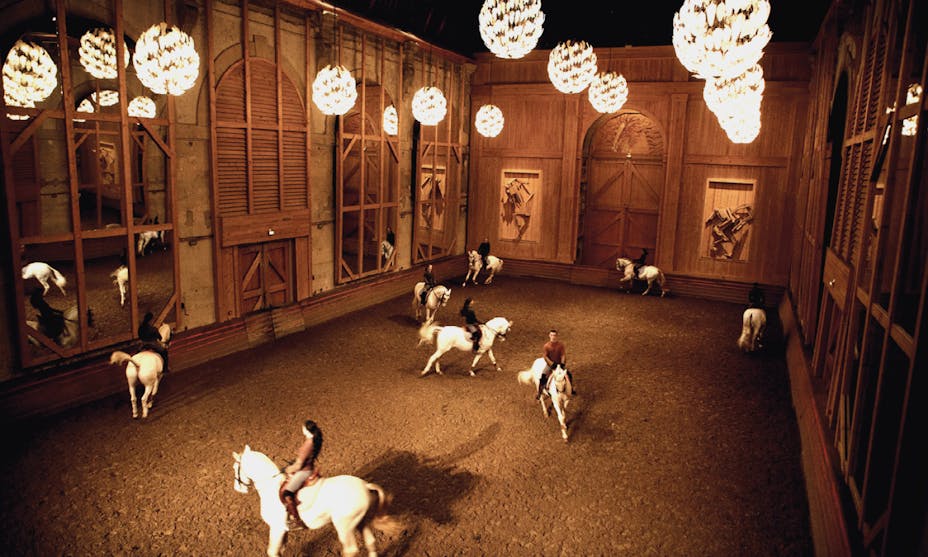 (The stables at Versailles, which hosts The National Equestrian Academy of the Estate of Versailles)
The stables at the Palace of Versailles, is nothing short of spectacular, but what else would you expect when a palace has it's very own equestrian center. The stables were built somewhere between 1679 and 1682, and with the exception of needed restorations and improvements remains very similar to the original design. Currently the National Equestrian Academy of the Estate of Versailles practices and puts on shows for the public if you are lucky enough to be able to snag a ticket before it is sold out.
Rallywood Farm, Virginia
Located in The Plains, Virginia, Rallywood Farm, is truly spectacular. If you are a horse lover and ride here, your horse is welcome and can join you in the dining room for a meal. No, really! Situated on 115 acres of prime Virginian countryside, this is an equestrians paradise.
Wölffer Estate Stables located in Sagaponack, NY
Wölffer Estate Stables feels like you are stepping into a fairytale, a place you have only seen in Disney films, but it is real and it is located in the Hamptons. Situated on over 100 acres their facilities include more than 80 stalls with 39 individual paddocks, an indoor riding ring, and several outside rings as well as a Grand Prix field. If you want to compete, this is the barn to train at.
Gornall Equestrian in Yorkshire, England
Pazo de Lis Sport Horses located in Silleda, Spain
Pazo de Lis Sport Horses, in the beautiful Silleda, Spain, puts the horses needs before the riders every time. Located in the perfect year round climate, Pazo de Lis Sport Horses, has become world renounded for their specialization in training and selling the best showjumping horses. If you are looking to buy the best horse available, we suggest you start your search here.